Greater New York Sandlot Athletic Alliance
partners with Axcess Baseball
2nd Annual Mike Leiderman 2022 Cup
August 11, 2022 7PM
MITCHEL FIELD GARDEN CITY NY
N.Y. City vs Long Island.

AUGUST 8, 2022 UPDATE FIELD CHANGE: Greater New York Sandlot Athletic Alliance partners with Access Baseball for our 2nd Annual Mike Leiderman 2022 Cup on August 11. 2022 @ MITCHEL FIELD IN GARDEN CITY with a matchup between the top NYC players vs the top Long Island players. The GNYSAA NYC team is to be comprised of NYC youth players from the 2023 H.S.graduating year.
Selected players should follow us
Instagram. https://www.instagram.com/gnysaa/
Facebook. https://www.facebook.com/GNYSAA/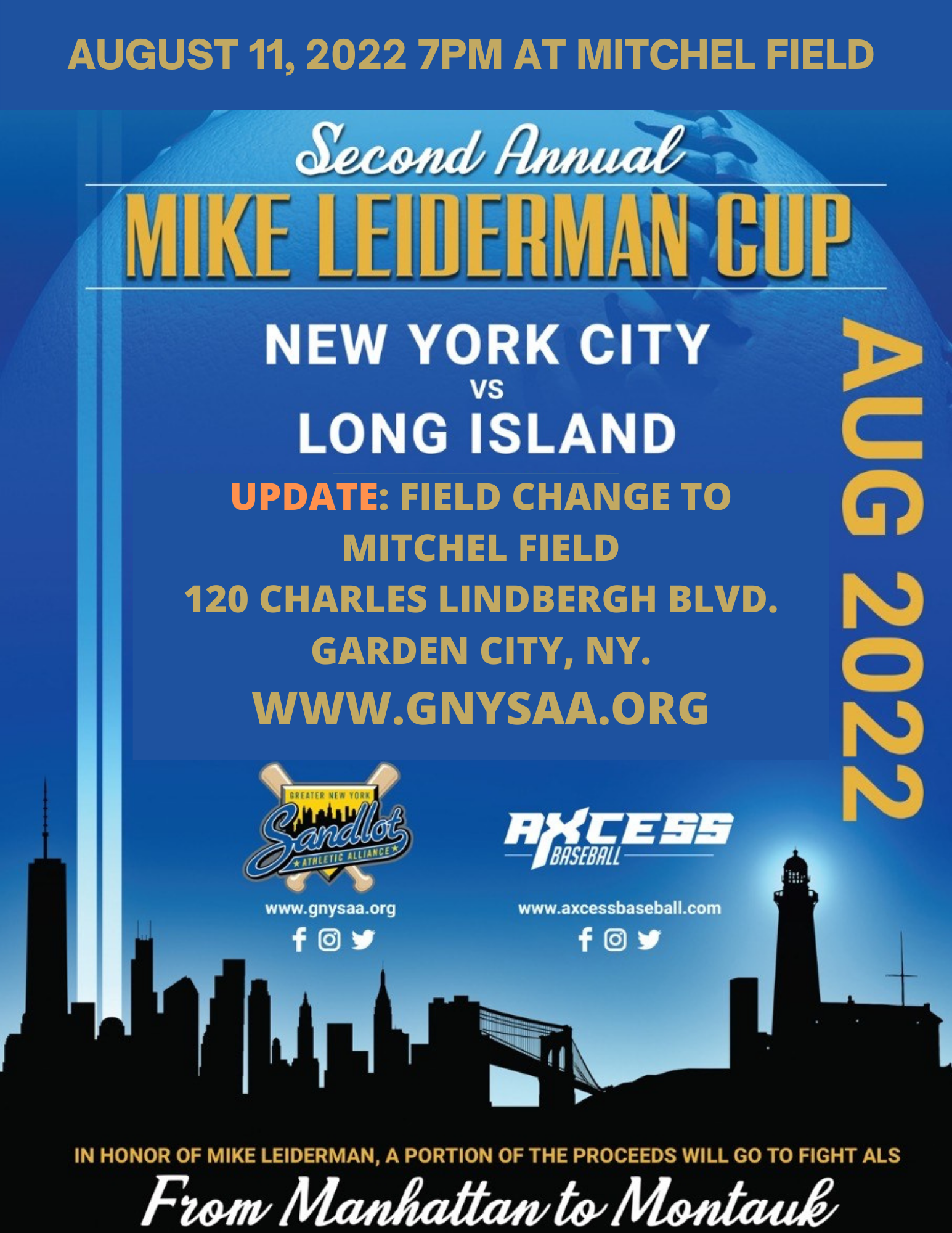 (((((((((((((((((((((((((((((((((((((((((((((((((((((((((((((((((((((((((((((((((
Highlights from 2021 Event


August 19, 2021 Tuesday's inaugural Mike Leiderman Cup to benefit ALS between NY City and Long Island, the city team came out victorious. The evening began with 3x World Series champ and New York Mets Hall of Fame pitcher Dwight Gooden throwing out the first pitch to Mike Leiderman's son, David. It was a pretty amazing moment. The event raised over $5,000 towards ALS Foundation.

The GNYSAA would like to congratulate both teams and give a special thank you to Axcess Baseball Vinny Messana and Shaun Manning for all their hard work in setting up and getting the game played.Also, the GNYSAA would like to thank Coach Charlie Barbeiri and Maritime University for donating the field.
Great recap at Axcess baseball
https://www.axcessbaseball.com/2021/08/18/new-york-city-captures-the-1st-annual-mike-leiderman-cup/#
August 18, 2021 Leiderman Cup Report From Axcess Baseball: The first annual Mike Leiderman Cup took place last night at SUNY Maritime between rosters composed of players from New York City and Long Island. The game was competitive, with New York City winning 3-1, holding off a late LI rally that all occurred with two outs and nobody on in the 9th, but the reason for the event was to honor the life of Mike Leiderman and raise money for the ALS Foundation.

From that standpoint, it was a resounding success as we were able to raise $5,000 for the cause.
The evening began with 3x World Series champ and New York Mets Hall of Fame pitcher Dwight Gooden throwing out the first pitch to Mike Leidermans son, David. It was a pretty amazing moment.
The rosters were flooded with Division-I talent. I was especially impressed with the arms that NYC was able to roll out. Joseph Hauser (St. Francis Prep 2022) committed to Northeastern University earlier in the day and rather than celebrate with his friends, he chose to participate and he only raised his stock by throwing two shutout innings and looked completely dominant. He was named Most Outstanding Pitcher.
Another really impressive player was Harvard-commit Gio Colasante (Poly Prep 2022) who batted leadoff, showed ridiculous athleticism by running a 6.4 60-yard dash, great footwork and soft hands in the field and also sat in the low 90s on the mound. From a pro scouting perspective, he was the player with the highest ceiling.
Their pitching staff stymied the lineup of Long Island for the most part. The LI batters struggled to get the big hit �??????????�?????????�????????�???????�??????�?????�????�???�??�?�¢?? as they stranded the bases loaded in the first and second innings.
NYC scored two runs in the bottom of the third on a sac fly by Mike Lombardi and a bases loaded walk. They added another run in the sixth on another sac fly to make it 3-0.
LI scratched one across in the eighth inning on a bases loaded walk drawn by Chris McHugh (Commack 2023) but a strikeout ended the inning with Jason Campo looming on deck.
Nick Mazzotta (Kennedy Catholic 2022) came on for the save. After striking out the first two batters in the ninth, he ran into some trouble with the bottom of the order and walked leadoff batter Nick Ungania (Chaminade 2022) to load the bases for Dominick Carbone (Rocky Point 2023). After a borderline pitch was called a ball to run the count full, Carbone grounded out to Colasante at shortstop to end the game with a score of 3-1.
While the game was intense and the players clearly wanted to win, the event was an exhibition game meant for a greater cause. We feel strongly that the mission was accomplished of honoring the life of Mike Leiderman and raising money to a truly debilitating and awful disease.
Additionally, we would like for this to be an annual event held at SUNY Maritime. Special thanks to Maritime HC Charlie Barbieri for donating the field for the game, to Shaun Manning of Next Level for having the idea for the game and putting all the work in to make it happen from getting the jerseys, to having Dwight Gooden in attendance, getting the DJs and everything in between. He was an integral part of the event. Thank you to Vic Feld of the Greater New York Sandlot Athletic Alliance for putting together an outstanding roster and coaching staff. Lastly, thanks to the spectators that came down to support and help raise money this evening.
It was a pleasure to be a small part of such an amazing event. If you are a player, this is something you probably dont want to miss out on in the future.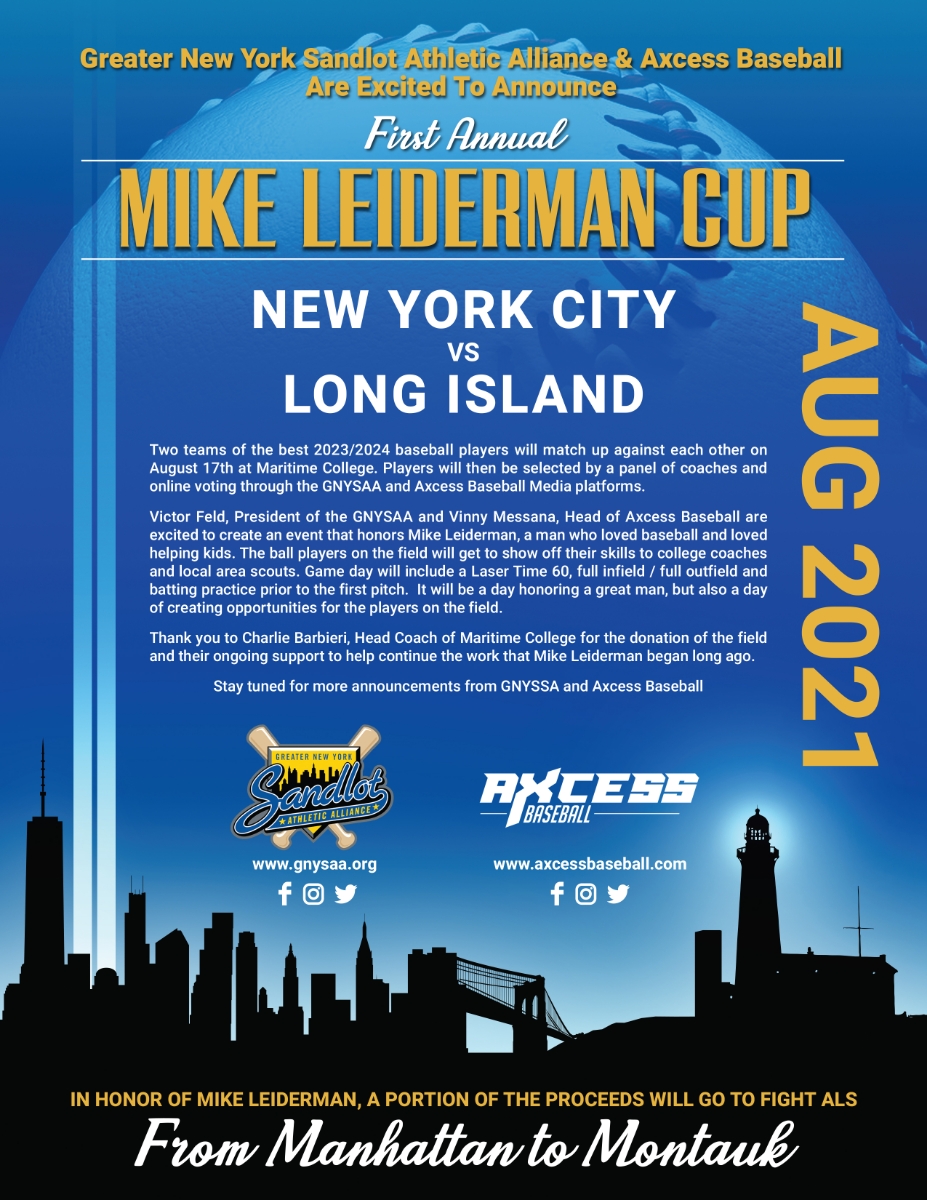 ITS OFFICIAL: Victor Feld, President of the GNYSAA and Vinny Messina, Head of Axcess Baseball are excited to create an event that honors Mike Leiderman, a man who loved baseball and loved helping kids.
GNYSAA is proud to announce we will be fielding the New York City's Top 20 players from Classes 2022/23 to participate in the Inaugural Mike Leiderman Cup partnered with Axcess Baseball in a New York City vs Long Island matchup of the Top 40 players scheduled for August 17 at Maritime College Bronx, NY.. The ball players on the field will not only try to win the 'Legacy Cup" but will also get to show off their skills to college coaches and local area scouts. Game day will include a Laser Time 60, full infield/full outfield and batting practice prior to the first pitch. It will be a day honoring a great man, but also a day of opportunity for the players, just like Mike would want.
We are proud to have on the GNYSAA Coaching staff for this event two of the best Youth Baseball Coaches in New York. We thank Coach Bobby Fletcher and Coach Mike Turo for their professionalism and guidance for our upcoming evaluations and coaching the Leiderman Cup game.

Selected players should follow us
Instagram. https://www.instagram.com/gnysaa/
Facebook. https://www.facebook.com/GNYSAA/


Thank you to HBQVB for hosting our

evaluations

.
Special thanks to Maritime College and Coach Charlie Barbieri for hosting and supporting the Leiderman Cup.