Greater New York Sandlot Athletic Alliance partners with Axcess Baseball for
2021 1st Annual Leiderman Cup
N.Y. City vs Long Island
GNYSAA Leiderman 2022/23 NYC Team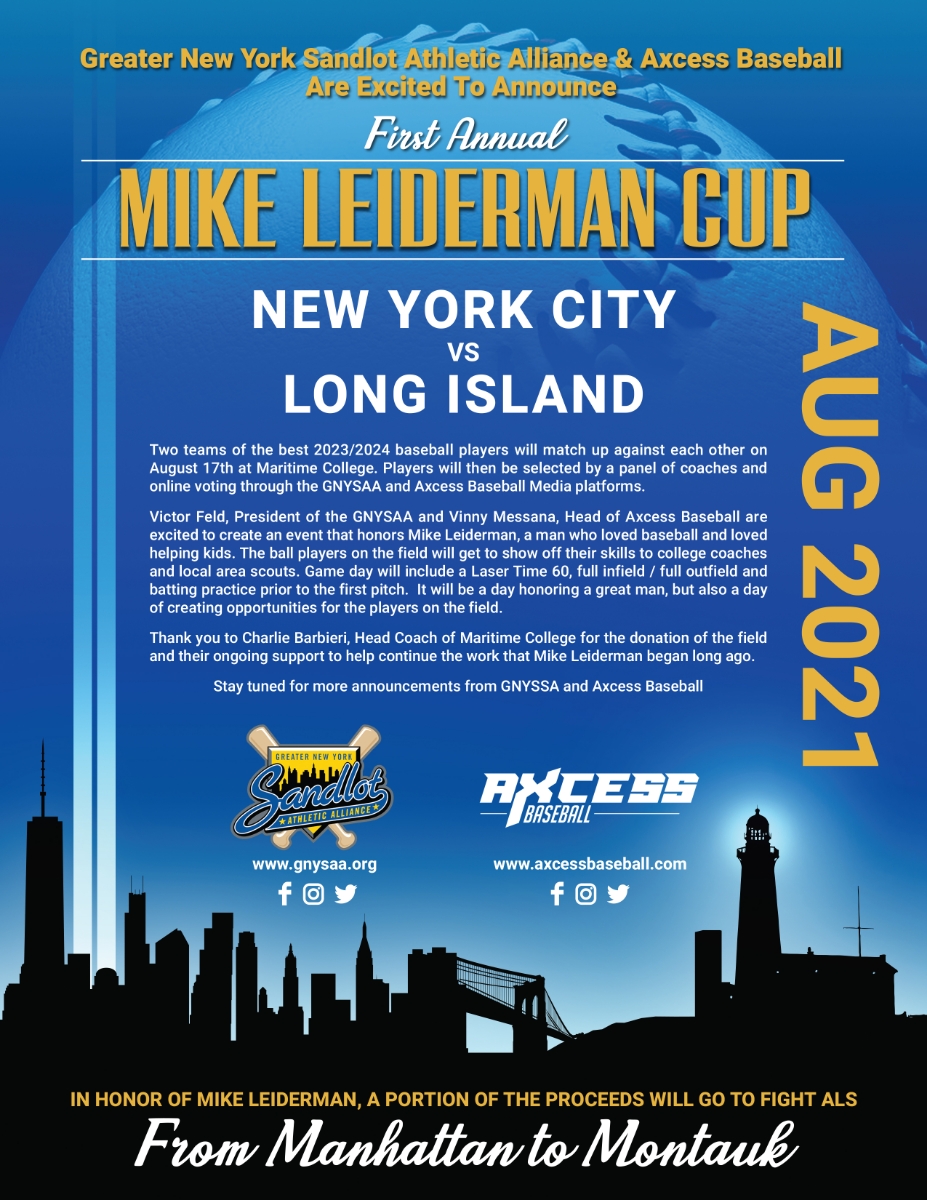 ITS OFFICIAL: Victor Feld, President of the GNYSAA and Vinny Messina, Head of Axcess Baseball are excited to create an event that honors Mike Leiderman, a man who loved baseball and loved helping kids.
GNYSAA is proud to announce we will be fielding the New York City's Top 20 players from Classes 2022/23 to participate in the Inaugural Mike Leiderman Cup partnered with Axcess Baseball in a New York City vs Long Island matchup of the Top 40 players scheduled for August 17 at Maritime College Bronx, NY.. The ball players on the field will not only try to win the 'Legacy Cup" but will also get to show off their skills to college coaches and local area scouts. Game day will include a Laser Time 60, full infield/full outfield and batting practice prior to the first pitch. It will be a day honoring a great man, but also a day of opportunity for the players, just like Mike would want.
We are proud to have on the GNYSAA Coaching staff for this event two of the best Youth Baseball Coaches in New York. We thank Coach Bobby Fletcher and Coach Mike Turo for their professionalism and guidance for our upcoming evaluations and coaching the Leiderman Cup game.
**Tryouts are for players of Classes 2022/2023 from New York City.
Players are asked to only attend one tryout
Click HERE to register for the GNYSAA NYC TOP 20 TRYOUTS**.
Evaluation Days: Tuesday 7/20, Thursday 7/22, Tuesday 7/27, Thursday 7/29 with any rainouts the following day.
Evaluation Location: HBQVB Baseball Complex located 236-02 Hillside Ave, New York NY 11426
**This team is being formed solely for this event only.

Selected players should follow us
Instagram. https://www.instagram.com/gnysaa/
Facebook. https://www.facebook.com/GNYSAA/


Thank you to HBQVB for hosting our

evaluations

.
Special thanks to Maritime College and Coach Charlie Barbieri for hosting and supporting the Leiderman Cup.