GNYSAA 16th Annual
Raymond F. Church
Service to Youth Baseball Awards Dinner
Thursday, November 18, 2021 Cocktail Hour Begins at 6:30 p.m.
Russos on the Bay
162-45 Cross Bay Boulevard Howard Beach, New York 11414
4th Annual Jack Kaiser Coaching Excellence Award that honors collegiate coaches in the Metro New York Area for their achievement, dedication and professionalism will be presented to

Coach Joseph Fucarino
Head Baseball Coach, Molloy College
For further information or to purchase tickets contact Thomas Sylvester at sylvester_thomas@hotmail.com or (347) 463-3602

Click HERE to download Invitation.Sponsor Journal Form

Coach Fucarino will be added to our Coaching Excellence board. Click HERE to see our previous recipients. We congratulate Coach Fucarino on being added to this group of exceptional coaches.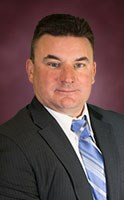 Joe Fucarino enters his 17th season at the helm of the Molloy College baseball program in 2022. In his years at the helm of the Lions' baseball program, he has compiled 382 wins, qualified for the East Coast Conference tournament 11 out of 15 years, won the East Coast Conference Championship in 2021, made two NCAA East Regional Tournament appearances, took home the ECAC Tournament title in 2009, and has had numerous East Coast Conference selections, Player of the Year selections, Rookie of the Year selections, All-East Region selections, and All-Americans. Coach Fucarino has also received East Coast Conference Coach of the Year praise in 2009, 2011, 2018, and 2021.
Coaching Record (2006-Pres.)
382-352 (.520)
NCAA Tournament Appearances
2
Conference Tournament Appearances
10
Conference Championships
1
All-Conference Selections
63
All-Region Selections
24
All-American Selections
10
Coach of the Year Awards
4
Five former Molloy College players under the tutelage of Coach Fucarino are currently playing professional baseball, with four signing contracts in the Spring of 2015. Those signees were highlighted by junior RHP Shea Spitzbarth, who is currently playing for the minor league affiliate of the Pittsburgh Pirates.
The program responded to the cancellation of the 2020 season due to the COVID-19 pandemic by putting together a historic 2021 season, winning the program's first East Coast Conference Championship under Fucarino and making the NCAA Tournament for the second time in the program's history. The maroon and white secured an All-Conference selection at catcher, first base, second base, third base, short stop, outfield, and starting pitcher, highlighted by Sean Hogan being selected the Player of the Year and Fucarino earning his fourth Coach of the Year selection. The Lions advanced all the way to the Championship Game of the NCAA East Regional Tournament, coming just one win short of a trip to the National Championship Tournament.
In 2018, Fucarino led the Lions to tie a program-best 31 wins, including starting a flawless 13-0 in league play. The team eventually ended the year as Co-Regular Season Champions and advanced to the Championship game of the ECC Tournament for the second consecutive year. His efforts earned Fucarino his third Coach of the Year recognition from his peers.
The 2016 season proved to be a record-setting and landmark campaign for Coach Fucarino and the Lions. Spending most of the year inside the NCBWA East Region Top-10 poll, Molloy tied a program record with 31 victories and received enough clout in the national conversation to earn the No. 6 overall seed in the NCAA Tournament's East Region competition. The first-ever berth into the NCAA Tournament was made possible due to ECC Player of the Year Angelo Navetta, who won the regular-season batting championship (.372) while also claiming a Rawlings Gold Glove on account of a 1.000 fielding percentage at first base. The dynamic tandem of starting pitchers Ronald Bauer and Bobby Kelly combined to go 13-5 on the mound while Anthony Catinella emerged as a strikeout threat, posting 80 K's to lead the Lions' staff. Molloy went 13-11 in conference play, collecting an ECC Tournament berth and grabbed win number 31 by knocking out three-time defending champion Saint Thomas Aquinas College from the play-off round.
In 2011, Fucarino, a three-time East Coast Conference Coach of the Year honoree, led the Lions to their first-ever ECC regular-season title, following an 8-3 win against league nemesis University of Bridgeport on May. 9, 2011. He also guided them to a 31-20 record, the most regular-season wins for Fucarino in his head coaching career with the maroon and white.
Just a year earlier, Fucarino helped Molloy to its first 30-plus win season since 2002 when the Lions posted a ledger of 30-24 in 2010. In addition, Fucarino's team came up just short of an East Coast Conference crown as Molloy suffered an 6-5 extra-inning loss to C.W. Post in the championship game.
Many players have also thrived as accolade recipients under Fucarino's tutelage, including 63 All-Conference selections, 10 major postseason awards (Player/Rookie/Pitcher of the Year), 24 All-Region selections (CCA/Daktronics, NCBWA, ABCA/Rawlings), and 10 All-American selections (CCA/Daktronics, NCBWA, ABCA/Rawlings).
Fucarino's coaching career in Rockville Centre dates as far back as 1994. He served as Bernie Havern's assistant coach from 1994-2000, and Associate Head Coach from 2001-05.
During his days as a student-athlete, Fucarino played collegiate ball for two years at Nassau Community College, where he was dubbed an All-Region XV infielder. He would later compete for Dowling College on a full athletic scholarship from 1991-93.
In addition to coaching the Lions, Fucarino serves as the Athletic Fund Coordinator for Molloy College, charged with running the Athletic Fund Club. Established in 2010, the Athletic Fund Club provides direct support for over 300 student-athletes to enhance training and competition sites, expand travel, and provide all necessary equipment and apparel needs. In addition to the Athletic Fund Club, he is responsible for the coordination of the annual Department of Athletics Golf Outing and is a lead planner for the College's All In Day campaigns and Family and Alumni Weekend.
Fucarino, who has coached as an instructor for numerous Baseball Academy and summer camps, lives in Wantagh, N.Y. with his wife, Nancy, and two daughters, Ashlee and Jenna.
| Year | Overall W-L | ECC W-L | Postseason Finish |
| --- | --- | --- | --- |
| 2006 | 27-25 | 17-12 | ECAC Finalist |
| 2007 | 21-26 | 11-16 | N/A |
| 2008 | 29-21 | 15-12 | ECC Tournament; ECAC Champion |
| 2009 | 26-19 | 16-8 | ECC Tournament |
| 2010 | 30-24 | 20-10 | ECC Finalist |
| 2011 | 31-20 | 22-8 | ECC Tournament |
| 2012 | 20-28 | 10-14 | N/A |
| 2013 | 24-27 | 14-10 | ECC Tournament |
| 2014 | 20-24 | 12-12 | ECC Tournament |
| 2015 | 22-23 | 10-14 | N/A |
| 2016 | 31-23 | 13-11 | ECC Semifinalist; NCAA East Regional Tournament |
| 2017 | 21-29 | 11-14 | ECC Finalist |
| 2018 | 31-21 | 18-6 | ECC Finalist |
| 2019 | 17-27 | 14-14 | N/A |
| 2020 | 7-4 | N/A | Season Canceled Due to COVID-19 Pandemic |
| 2021 | 25-11 | 15-4 | ECC Champion; NCAA East Regional Finalist |
| Career | 382-352 | 218-165 | |