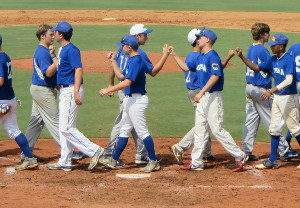 WELCOME TO GREATER NEW YORK SANDLOT ATHLETIC ALLIANCE
In an effort to continue the proper way of promoting baseball to the New York Community, the leadership of the Alliance members and the board of directors coordinate and promote annual events to best showcase what New York baseball has to offer. Serving 25,000 youth baseball and softball players in the sandlots throughout New York City's five boroughs and greater metropolitan area.
Greater New York Sandlot Athletic Alliance NEWS

AUGUST 8, 2022 UPDATE FIELD CHANGE: Greater New York Sandlot Athletic Alliance partners with Access Baseball for our

2nd Annual Mike Leiderman 2022 Cup

on August 11. 2022 @ MITCHEL FIELD IN GARDEN CITY

with a matchup between the top NYC players vs the top Long Island players. The GNYSAA NYC team is to be comprised of NYC youth players from the 2023 H.S.graduating year.






Announcement: Greater New York Sandlot Athletic Alliance: The GNYSAA Annual All Star Game was held July 26, 2022 9am-1pm at Maimonides Park (Home of the Brooklyn Cyclones) for NYC youth players ages 13/14 and 15/16. A Big Thanks to the staff of Maimonides Park for hosting us. Another Big Thanks to all our All stars and coaches who made it a memorable day .
Announcement: Greater New York Sandlot Athletic Alliance will hold our Salute to the Sandlot night at Maimonidies Park (Home of the Brooklyn Cyclones) on August 21 prior to the Cyclones game as we enter our recent GNYSAA Honorees names onto our GNYSAA Wall of Fame at MCU Park. Our honorees include Dharyl Russel, Shaun Manning, Michael Leiderman(posthumously), Dr. Cesar Presbott, Joseph Solimine, and Matt Connolly. Please join us that evening as we salute their contribution to baseball. If interested in attending the ceremony please contact

Vic Feld controller317@aol.com or Paul Busciolano pbusciolano@gmail.com




Announcement: Plan on joining us to the GNYSAA 17th Annual Raymond F. Church Service to Youth Baseball Dinner on November 17, 2022 at Russo's on The Bay in Howard Beach. More info including our 2022 Honorees to follow.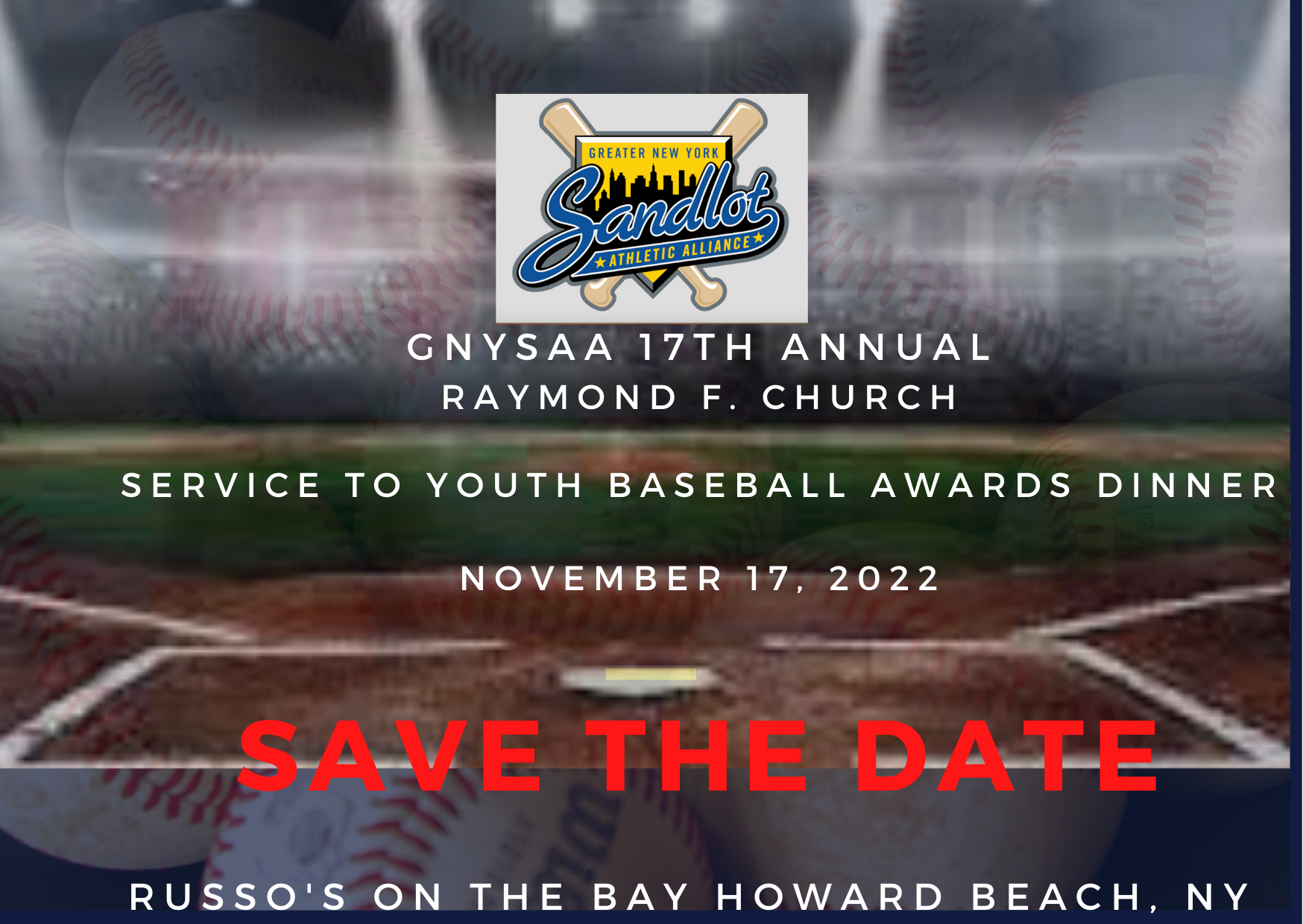 Instagram. https://www.instagram.com/gnysaa/
Facebook. https://www.facebook.com/GNYSAA


****************************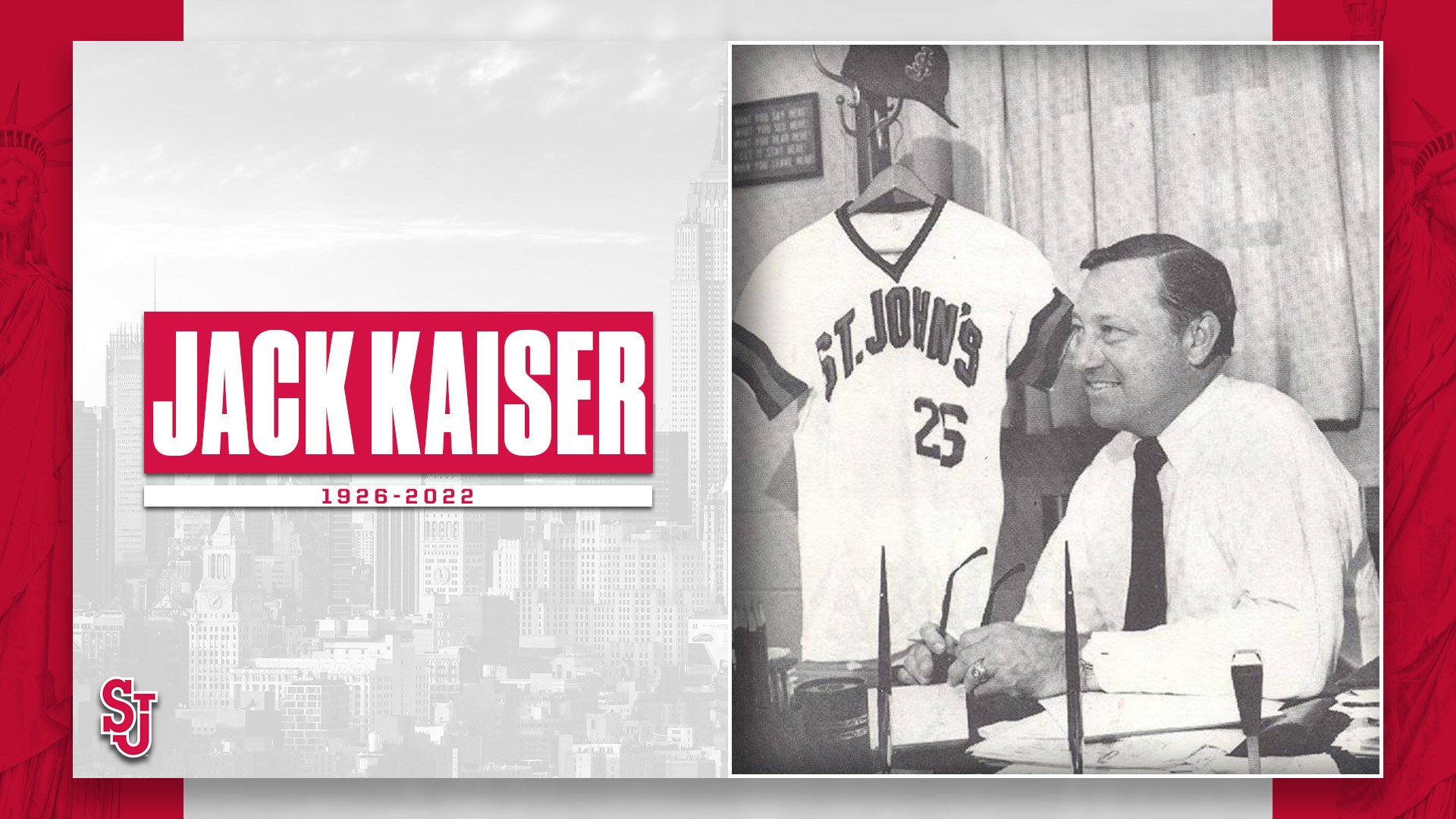 The Greater New York Sandlot Athletic Alliance is saddened to hear of the passing of our friend Jack Kaiser, a one of a kind New York baseball legend. We thank Jack for his extraordinary support of the GNYSAA and local youth through baseball all his years and we will miss Jack. Our condolences to his family and to all who knew this great man as a Coach, Athletic Director, or Friend. The GNYSAA will continue to honor his legacy with our annual Jack Kaiser Coaching Excellence Awards enacted in 2017 to honor a deserving College Coach for their greatness in coaching in the Greater New York Metropolitan Area. Rest in Peace Coach.
As a star baseball player at St. At John's University, Jack led the team to the 1949 College World Series. After college, Kaiser signed a professional contract with the Boston Red Sox, playing three years in the organization from 1950-52. Jack then had a 18-year career as head coach at SJU where he guided the team to 11 postseason appearances, including three trips to the College World Series. Over the next 22 years, Kaiser steered St. John's through a shifting national athletic landscape. Most notably, Kaiser was one of the seven athletic directors who banded together to create the BIG EAST Conference in 1979, forever changing the history of college basketball. To read his memorial and arrangements https://www.stjohns.edu/about/news/2022-05-26/st-johns-mourns-loss-jack-kaiser
********************************************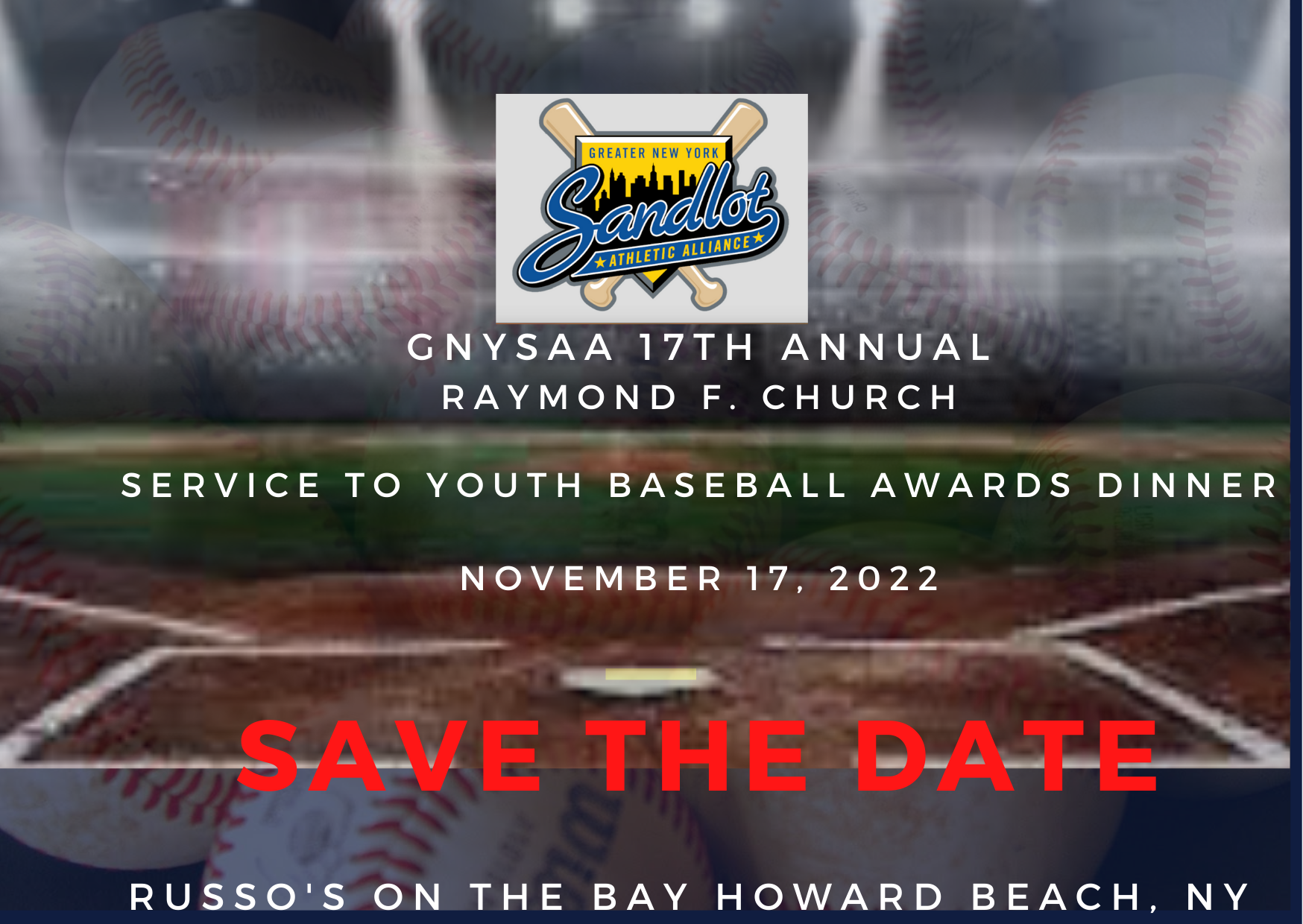 The Greater New York Sandlot Athletic Alliance's Annual Raymond F. Church Service to Youth Baseball Awards Dinner returns this year for its 17th installment on Thursday, November 17, 2022 at Russo's on the Bay 162-45 Cross Bay Boulevard Howard Beach, New York 11414. More info to follow.

*****************************************************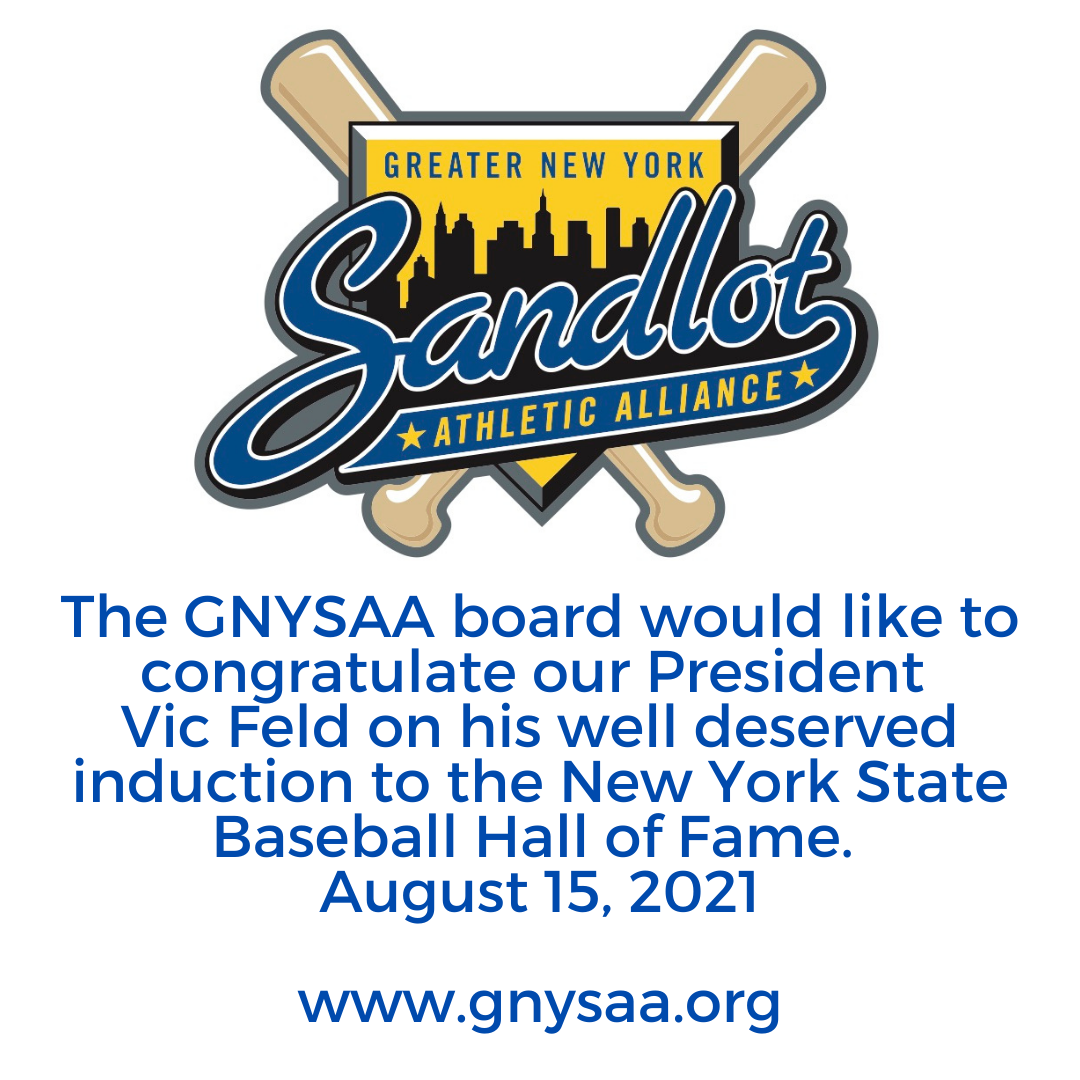 GNYSAA President Vic Feld inducted into New York State Baseball Hall of Fame

New York State Baseball Hall of Fame seeks to honor and recognize those who have distinguished themselves in the game of baseball. NYSBHOF honored the 2020 honorees on August 15 2021. The 2020 class included Tino Martinez, Lou Piniella, Goose Gossage,, Carl Erskine, Jerry Koosman, Gil Hodges, Mike Pagliarulo, John Morris, Kevin Kernan, Victor Feld, Jim Gates, Gene Michael, NYY Scout Cesar Presbott.
The Greater New York Sandlot Athletic Alliance is proud to announce the well deserved recognition of our President Victor Feld to the New York Baseball Hall of Fame. Victor and the other 2020 inductees were honored and recognized for their contribution to New York Baseball on August 15, 2021 at the Hilton Hotel Troy, N.Y..
Victor Feld is a lifelong Nassau County resident whose love of baseball began in his childhood. He has been involved in Sandlot baseball as a player, parent, coach, administrator, mentor and friend for 68 years. Since his retirement from his day job he has become even more committed to The Greater New York Sandlot Athletic Alliance (GNYSAA), where he has been a member for 40 years and whose motto for 80 years is to serve New York City Kids through baseball.
Vic started his adult baseball life as a parent and coach at Dwarf-Giraffe Athletic League (DG) in Whitestone Queens. He then went on to coach in the Long Island Connie Mack League and went to three regionals. There he also met Ray Church who was a mentor and friend and brought him into the GNYSAA family. His coaching career has been one that has taken him all over the country and where he has had success at many levels. He has been involved with Division 1 and Division 2 College Programs and has been both a High School and College Recruiter.
Since 2005, he has been President of the GNYSAA where he has worked diligently to grow the breadth and reputation of the organization. His work along with that of the GNYSAA Board (a board with 275 years of sandlot baseball experience) has grown the organization from a New York City Metropolitan Area program to one with a national reputation. The GNYSAA has built relationships with all professional, college, high school and sandlot levels which include Major League Baseball and USA Baseball. These relationships have helped the GNYSAA with its most important jobs of giving kids the opportunity to play, continuing their educations and getting opportunities to play and participate at the high school and college levels. Vic has affected the lives of thousands of players in a positive way and continues to do so today.
Vic and his wife Stephanie have three children, Anthony, Laurie and Charles and five loving grandchildren. The only thing that is more important to Vic than baseball is his family and he lives for both.

GNYSAA & Axcess Baseball 2021 Leiderman Cup August 2021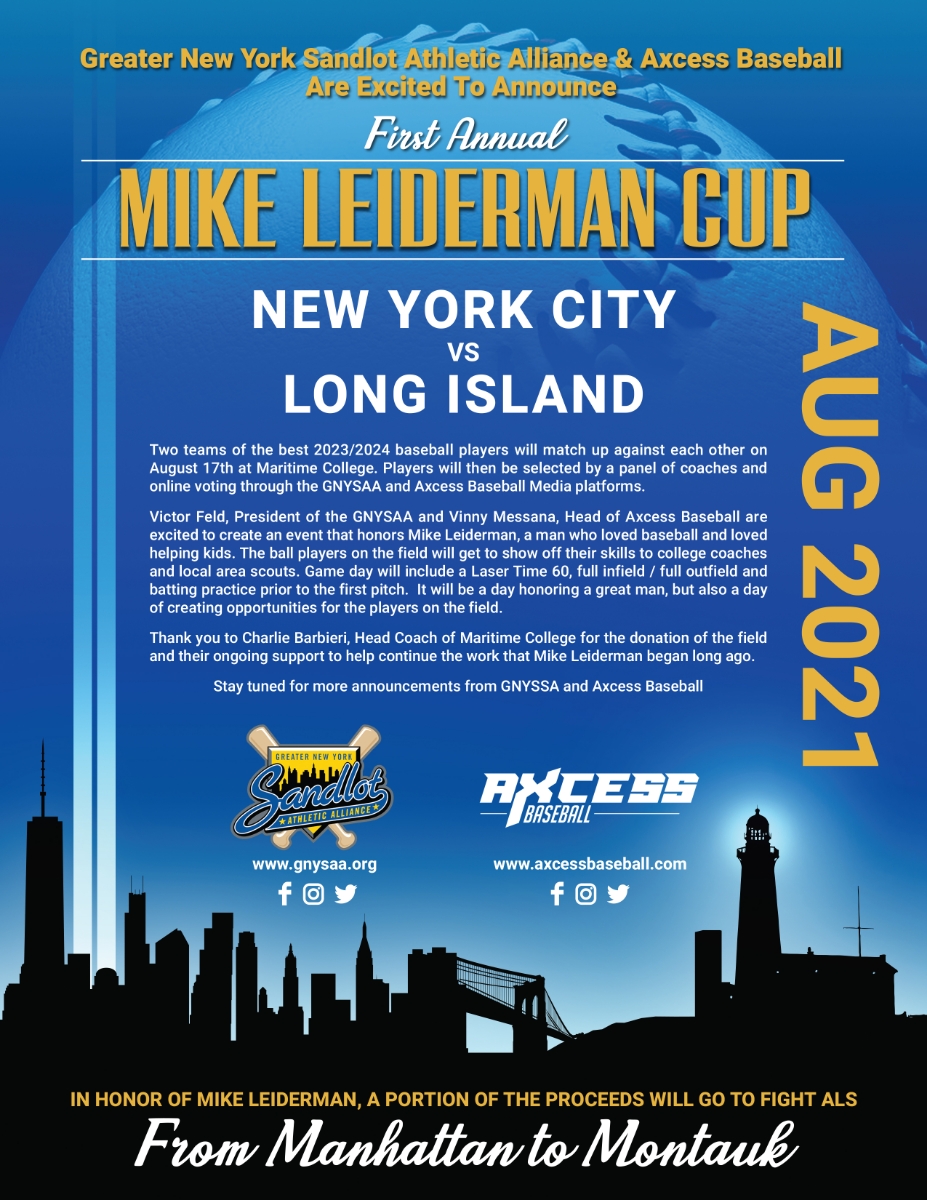 ITS OFFICIAL: Victor Feld, President of the GNYSAA and Vinny Messina, Head of Axcess Baseball are excited to create an event that honors Mike Leiderman, a man who loved baseball and loved helping kids.
GNYSAA is proud to announce we will be fielding the New York City's Top 20 players from Classes 2022/23 to participate in the Inaugural Mike Leiderman Cup partnered with Axcess Baseball in a New York City vs Long Island matchup of the Top 40 players scheduled for August 17 2021 at Maritime College Bronx, NY.. The ball players on the field will not only try to win the 'Legacy Cup" but will also get to show off their skills to college coaches and local area scouts. Game day will include a Laser Time 60, full infield/full outfield and batting practice prior to the first pitch. It will be a day honoring a great man, but also a day of opportunity for the players, just like Mike would want.
We are proud to have on the GNYSAA Coaching staff for this event one of the best Youth Baseball Coaches in New York. We thank Coach Bobby Fletcher for his professionalism and guidance for our upcoming evaluations and coaching the Leiderman Cup game.

Our Mission Is to Serve New York City Youth Through Baseball