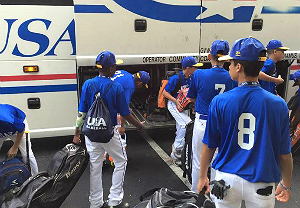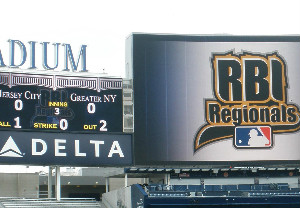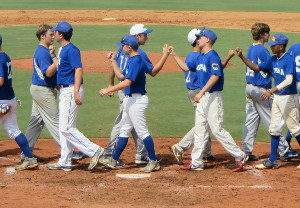 WELCOME TO GREATER NEW YORK SANDLOT ATHLETIC ALLIANCE
In an effort to continue the proper way of promoting baseball to the New York Community, the leadership of the Alliance members and the board of directors coordinate and promote annual events to best showcase what New York baseball has to offer. Serving 25,000 youth baseball and softball players in the sandlots throughout New York City's five boroughs and greater metropolitan area.
Greater New York Sandlot Athletic Alliance announces
WINTER 2021 BASEBALL TALK ZOOM TOUR
JOIN US WITH SOME OF THE BEST COACHES WHO WILL PREPARE OUR PLAYERS FOR THEIR UPCOMING 2021 SEASON THROUGH ZOOM PRESENTATIONS FOLLOWED BY Q & A SESSION. THIS EVENT IS OPEN TO PLAYERS, PARENTS, COACHES AND ADMINISTRATORS. REGISTRATION IS REQUIRED AND YOU ARE ELIGIBLE TO ATTEND ALL 5 SESSIONS.
Click HERE to register for these Zoom Baseball Talk Sessions

SESSION #5 MONDAY MARCH 15, 2021 7-8PM Infield play with Mercyhurst University Coach Charlie Spano

Charlie Spano enter his 20th year at as a member of the Mercyhurst coaching staff. The 2019 ABCA / Baseball America DII Assistant Coach of the Year, Spano has helped the Lakers to nine NCAA Regional appearances, eight PSAC-West titles and three NCAA Division II World Series apperances. During his tenure, 14 Mercyhurst players have been drafted by MLB organizations with eight players still active through various levels of professional baseball. Charlie serves as the third base coach and recruiting coordinator. He works closely with the infielders and on base running. Under Spano, 23 Laker infielders have been named to PSAC-West All-Conference teams. Click HERE for more info on Charlie
NEW DATE:SESSION #4 MONDAY March 8, 2021 7-8PM Hitting with Coach Dominic "Dom" Gatti
Dominic "Dom" Gatti has been a hitting instructor as well as coached varsity baseball for over 20 years and has become an expert on the slow motion swing analysis. He is one of the most decorated players in Adelphi Baseball history as a three-time All-American, and also a three-time Academic All-American at Adelphi University. He was selected by the Texas Rangers in the 1993 MLB Amateur Draft and spent three seasons with them. Click HERE for more about Gatti baseball

BIG THANKS TO NEXT LEVEL BASEBALL'S SHAUN MANNING & JENNEIFER WHO WERE INSTRUMENTAL IN COORDINATING TWO OR OUR MOST SUCCESSFUL ZOOM TALKS. WE REALLY APPRECIATE YOUR HELP!
SESSION #1 MONDAY FEB. 1, 2021 7-8PM Pitching with Coach CJ Reifenhauser
CJ Reifenhauser was a 2010 Draft pick by Tampa Bay Rays out of Chipola Jr. College. in 2021 played in the Arizona fall league Rising stars game. His MLB debut was against the NY Yankees in 2014. Former Assistant coach at Mercy College. Current Yorktown High School Varsity coach.

SESSION#2 MONDAY FEB. 8, 2021 7-8PM Catching & Base Running with Coach Dan Palumbo
Dan Palumbo is the former Athletic Director of John Jay College, former 28 year NCAA College Head Coach, Scout for the Philadelphia Phillies and Director for Italian American Baseball Foundation. A New York Baseball legend. Over 20 years running the Stuy Town Baseball Camp. Click HERE for more info on Dan's camps

SESSION #3 MONDAY FEB, 15, 2021 7-8PM NCAA Recruitment with Next Level Baseball's Shaun Manning
Shaun Manning has coached at the high school level as well as top travel teams for the Long Island Storm and is Founder and coaches with Next Level Baseball program, one of the top programs on Long Island. He has a proven record of placing players at the collegiate level and a great reputation among college coaches. Click HERE to find out about Shaun's Next level program
BIG THANKS TO NEXT LEVEL BASEBALL'S SHAUN MANNING & JENNEIFER WHO WERE INSTRUMENTAL IN COORDINATING TWO OR OUR MOST SUCCESSFUL ZOOM TALKS. WE REALLY APPRECIATE YOUR HELP!



Our Mission Is to Serve New York City Youth Through Baseball