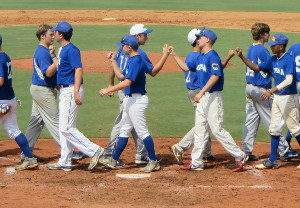 WELCOME TO GREATER NEW YORK SANDLOT ATHLETIC ALLIANCE
In an effort to continue the proper way of promoting baseball to the New York Community, the leadership of the Alliance members and the board of directors coordinate and promote annual events to best showcase what New York baseball has to offer. Serving 25,000 youth baseball and softball players in the sandlots throughout New York City's five boroughs and greater metropolitan area.
Greater New York Sandlot Athletic Alliance NEWS

GNYSAA is honored to be hosting the 25th Anniversary Dr. Cesar Presbott's Pre-Draft Showcase Combine on June 15-16 2022 at Preller-Padavan Fields.Click HERE for more info.

+++++++++++++++++++++++++++++++

The Greater New York Sandlot Athletic Alliance's Annual Raymond F. Church Service to Youth Baseball Awards Dinner returns this year for its 16th installment on Thursday, November 18, 2021. Cocktail Hour Begins at 6:30 p.m. at Russo's on the Bay 162-45 Cross Bay Boulevard Howard Beach, New York 11414.
Click HERE to attend and more info
Our Guest Speaker for the evening will be John Morris, Spec. Asst to the GM Cincinnati Reds, Major League Scout, St. Louis Cardinals and NYS Baseball Hall of Famer 2020.

For their long-time commitment and dedication to youth baseball and the improvement of their local communities through sports the GNYSAA will honor:
Dr. Cesar Presbott,

NY Yankee Scout and NYS Baseball Hall of Famer 2020,

Joseph Solimine,

Lifetime Baseball Coach, Pittsburgh Pirates, NYS Baseball Hall of Famer 2021,

Matt Connolly,

former

Chicago Cubs and Msgr McClancy H.S. Hall of Famer,

Steven Adler,

President - HBQVB Athletic Association

Michael Leiderman (Posthumously) Founder, Long Island Storm and LI Storm Baseball Academy
We will also award the 4th Annual Jack Kaiser Coaching Excellence Award that honors collegiate coaches in the Metro New York Area for their achievement, dedication and professionalism to
Joseph Fucarino, Head Baseball Coach at Molloy College.
*****************************************************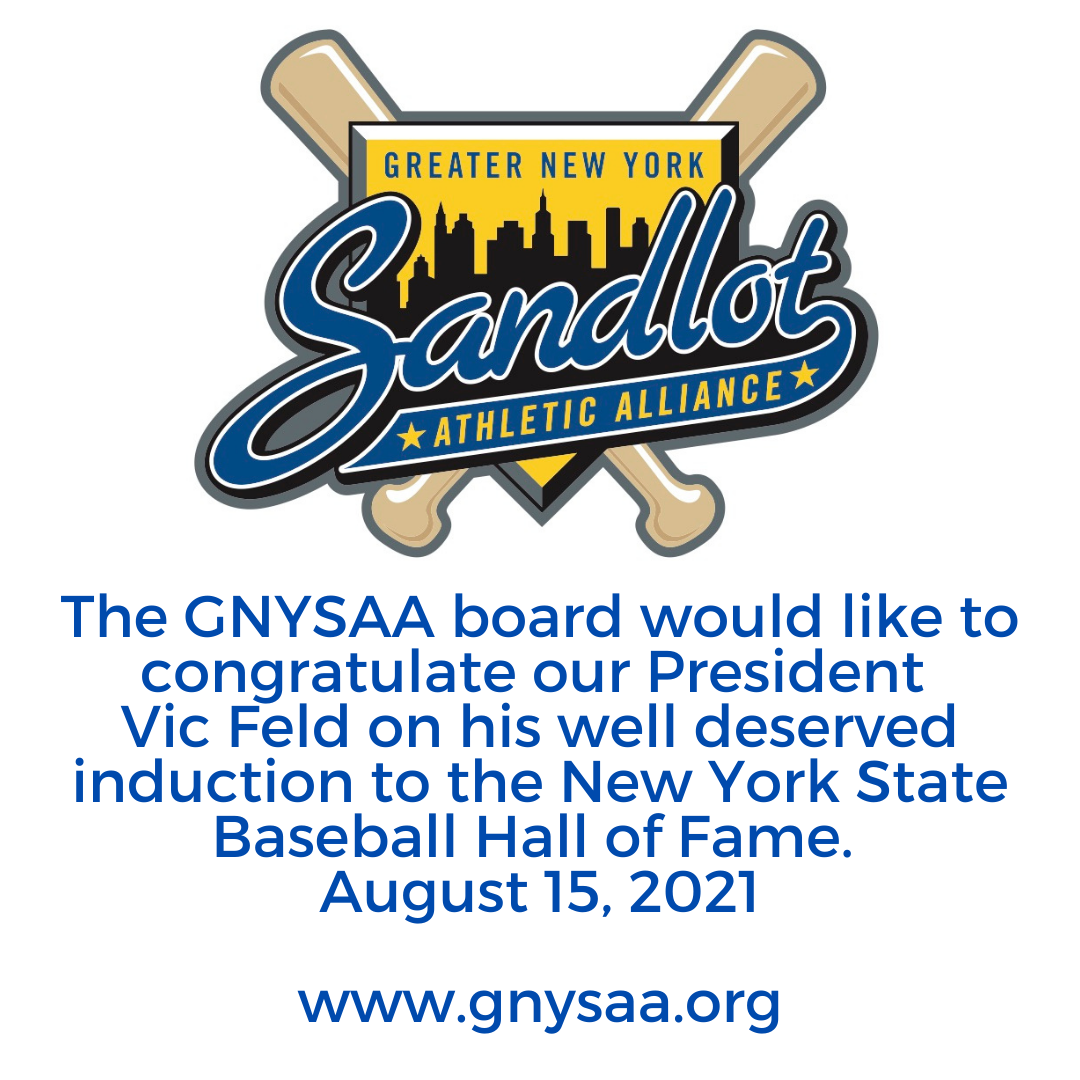 GNYSAA President Vic Feld to be inducted into New York State Baseball Hall of Fame

New York State Baseball Hall of Fame seeks to honor and recognize those who have distinguished themselves in the game of baseball. NYSBHOF will be honoring the 2020 honorees on August 15 2021. The 2020 class includes Tino Martinez, Lou Piniella, Goose Gossage,, Carl Erskine, Jerry Koosman, Gil Hodges, Mike Pagliarulo, John Morris, Kevin Kernan, Victor Feld, Jim Gates, Gene Michael, NYY Scout Cesar Presbott.
The Greater New York Sandlot Athletic Alliance is proud to announce the well deserved recognition of our President Victor Feld to the New York Baseball Hall of Fame. Victor and the other 2020 inductees will be honored and recognized for their contribution to New York Baseball on August 15, 2021 at the Hilton Hotel Troy, N.Y.. We hope you will be able to attend this ceremony for this group of distinguished honorees of the game of baseball.Tickets are available $100.00 per ticket and rooms available for overnight stays. To attend the Induction dinner email Vic at controller317@aol.com
Victor Feld is a lifelong Nassau County resident whose love of baseball began in his childhood. He has been involved in Sandlot baseball as a player, parent, coach, administrator, mentor and friend for 68 years. Since his retirement from his day job he has become even more committed to The Greater New York Sandlot Athletic Alliance (GNYSAA), where he has been a member for 40 years and whose motto for 80 years is to serve New York City Kids through baseball.
Vic started his adult baseball life as a parent and coach at Dwarf-Giraffe Athletic League (DG) in Whitestone Queens. He then went on to coach in the Long Island Connie Mack League and went to three regionals. There he also met Ray Church who was a mentor and friend and brought him into the GNYSAA family. His coaching career has been one that has taken him all over the country and where he has had success at many levels. He has been involved with Division 1 and Division 2 College Programs and has been both a High School and College Recruiter.
Since 2005, he has been President of the GNYSAA where he has worked diligently to grow the breadth and reputation of the organization. His work along with that of the GNYSAA Board (a board with 275 years of sandlot baseball experience) has grown the organization from a New York City Metropolitan Area program to one with a national reputation. The GNYSAA has built relationships with all professional, college, high school and sandlot levels which include Major League Baseball and USA Baseball. These relationships have helped the GNYSAA with its most important jobs of giving kids the opportunity to play, continuing their educations and getting opportunities to play and participate at the high school and college levels. Vic has affected the lives of thousands of players in a positive way and continues to do so today.
Vic and his wife Stephanie have three children, Anthony, Laurie and Charles and five loving grandchildren. The only thing that is more important to Vic than baseball is his family and he lives for both.

GNYSAA & Axcess Baseball 2021 Leiderman Cup August 2021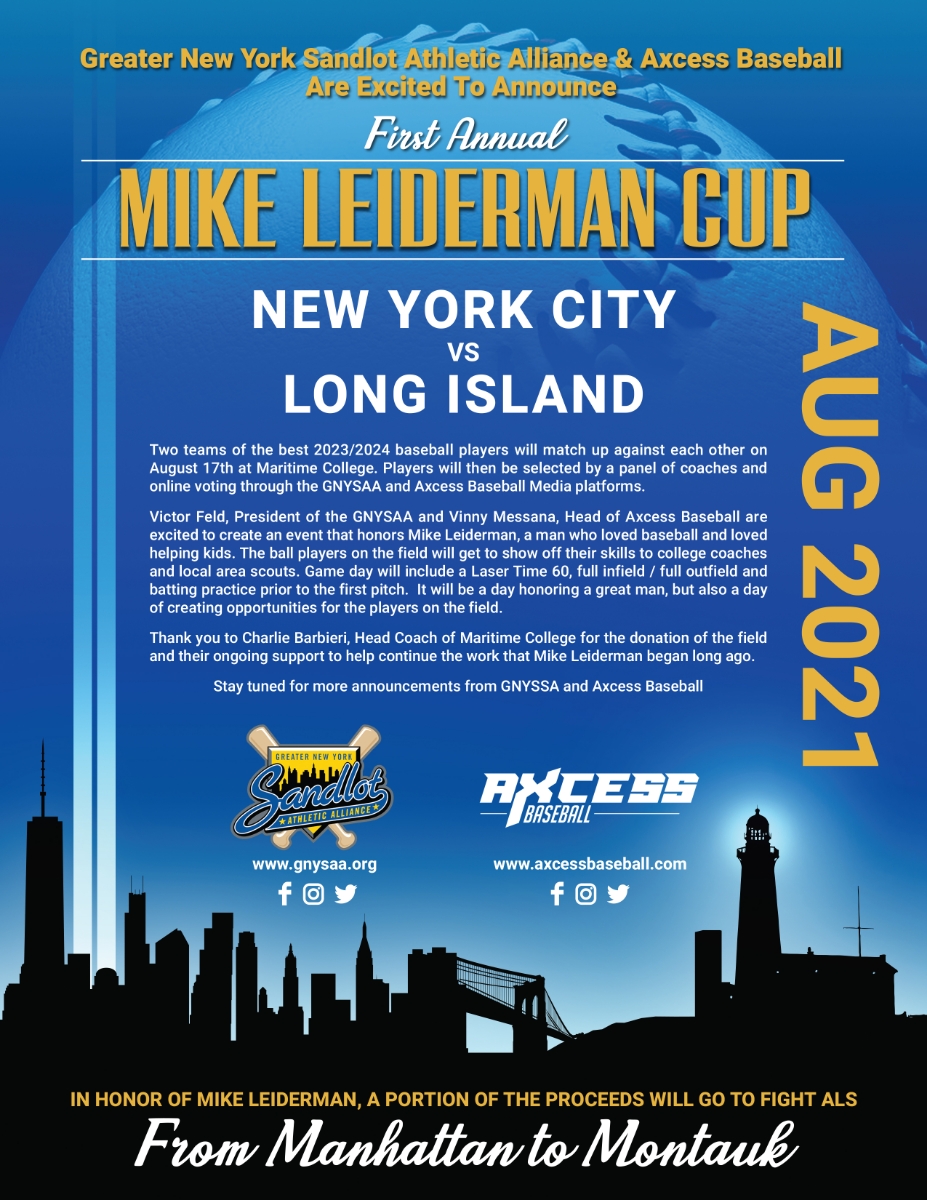 ITS OFFICIAL: Victor Feld, President of the GNYSAA and Vinny Messina, Head of Axcess Baseball are excited to create an event that honors Mike Leiderman, a man who loved baseball and loved helping kids.
GNYSAA is proud to announce we will be fielding the New York City's Top 20 players from Classes 2022/23 to participate in the Inaugural Mike Leiderman Cup partnered with Axcess Baseball in a New York City vs Long Island matchup of the Top 40 players scheduled for August 17 2021 at Maritime College Bronx, NY.. The ball players on the field will not only try to win the 'Legacy Cup" but will also get to show off their skills to college coaches and local area scouts. Game day will include a Laser Time 60, full infield/full outfield and batting practice prior to the first pitch. It will be a day honoring a great man, but also a day of opportunity for the players, just like Mike would want.
We are proud to have on the GNYSAA Coaching staff for this event one of the best Youth Baseball Coaches in New York. We thank Coach Bobby Fletcher for his professionalism and guidance for our upcoming evaluations and coaching the Leiderman Cup game.

Our Mission Is to Serve New York City Youth Through Baseball