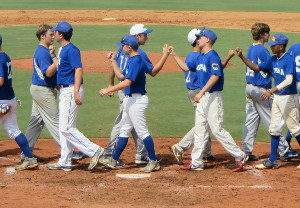 WELCOME TO GREATER NEW YORK SANDLOT ATHLETIC ALLIANCE
In an ongoing effort to continue the proper way of promoting baseball to the New York Community, the leadership of the Alliance members and the board of directors coordinate and promote annual events to best showcase what New York baseball has to offer. Serving 25,000 youth baseball and softball players in the sandlots throughout New York City's boroughs and greater metropolitan area.

Explore our website to see how we are engaged in the baseball community.
Happy Holidays from GNYSAA! We wish you all the very best of the holiday season and a great new year!
We have closed registrations for the Holiday Clinic. All registered players will receive an email with instructions on how to check in. Registered players are asked to check in on the day of the event using a provided QR code outside the rear entrance of the Molloy Gym by the field. Players should bring their bat and glove& bottle of water. No bags allowed. Please put your name of your player's equipment.
Parents are asked to drop off players after check in and return 530-545pm for pickup. There is no space set aside for parents to stay for the clinic. Thank you for your understanding.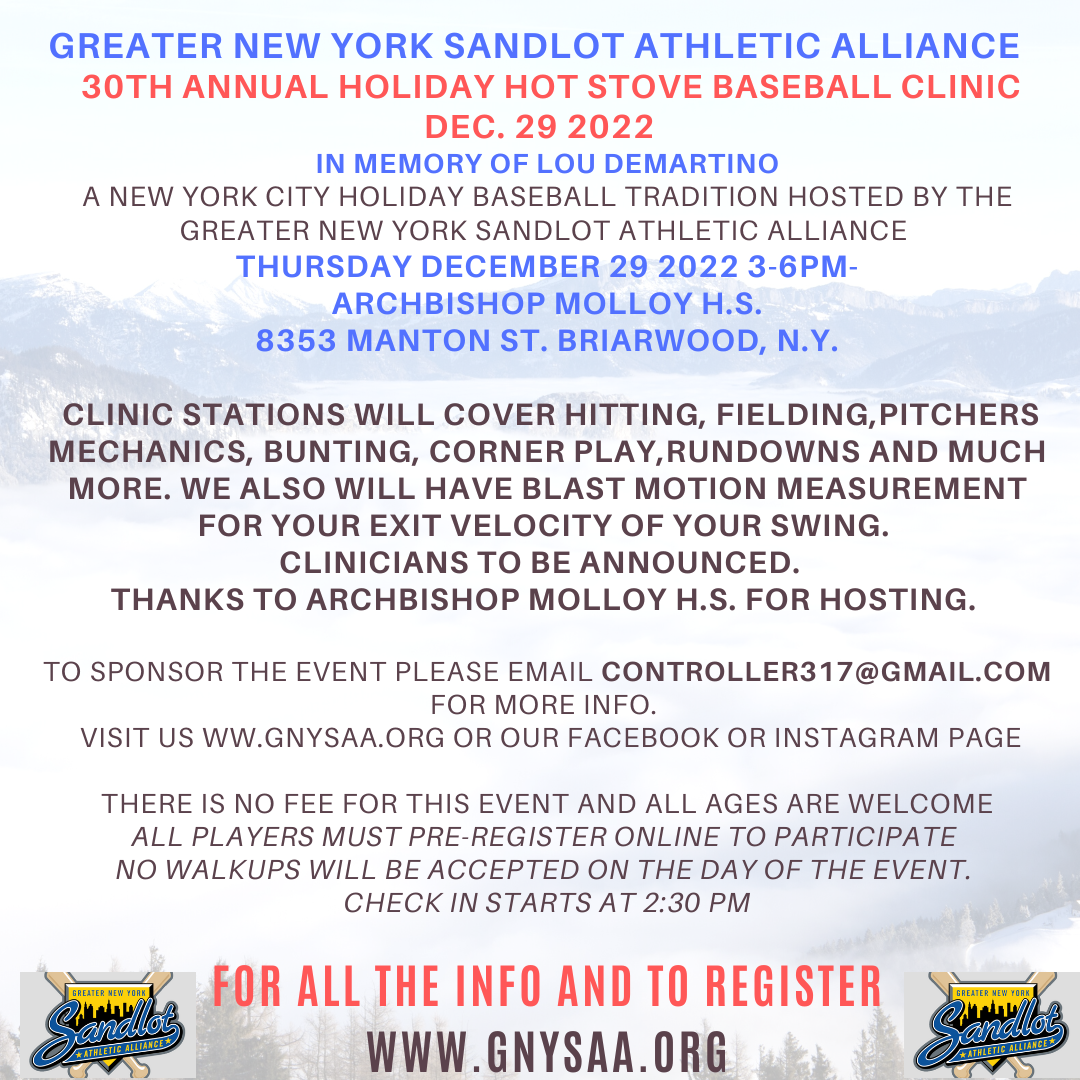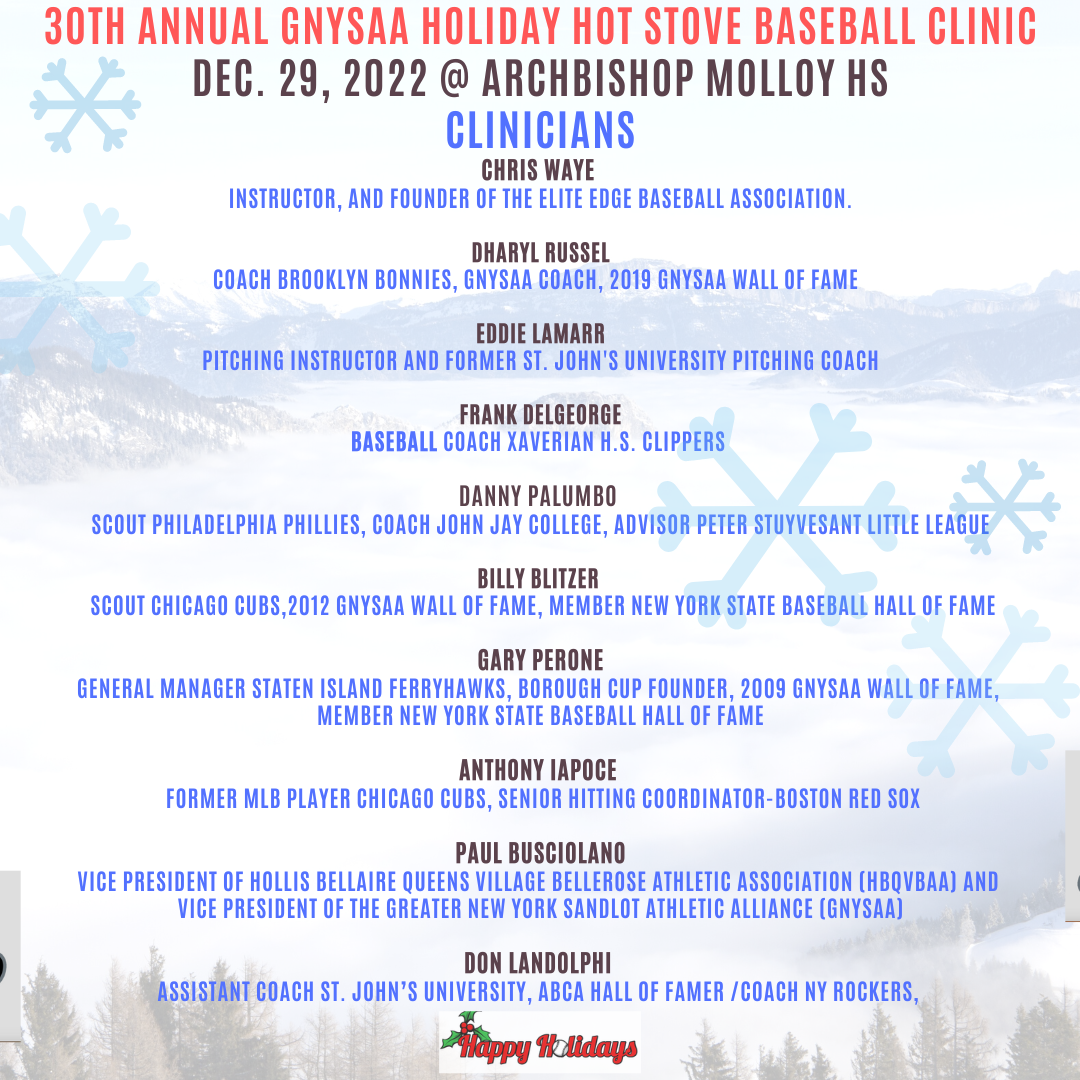 Announcement: Greater New York Sandlot Athletic Alliance: The GNYSAA Annual All Star Game was held July 26, 2022 9am-1pm at Maimonides Park (Home of the Brooklyn Cyclones) for NYC youth players ages 13/14 and 15/16. A Big Thanks to the staff of Maimonides Park for hosting us. Another Big Thanks to all our All stars and coaches who made it a memorable day .
Announcement: Greater New York Sandlot Athletic Alliance will held our Salute to the Sandlot night at Maimonidies Park (Home of the Brooklyn Cyclones) on August 21 prior to the Cyclones game as we enter our recent GNYSAA Honorees names onto our GNYSAA Wall of Fame at MCU Park. Our honorees include Dharyl Russel, Shaun Manning, Michael Leiderman(posthumously), Dr. Cesar Presbott, Joseph Solimine, and Matt Connolly. Please join us that evening as we salute their contribution to baseball. If interested in attending the ceremony please contact

Vic Feld controller317@aol.com or Paul Busciolano pbusciolano@gmail.com
Instagram. https://www.instagram.com/gnysaa/
Facebook. https://www.facebook.com/GNYSAA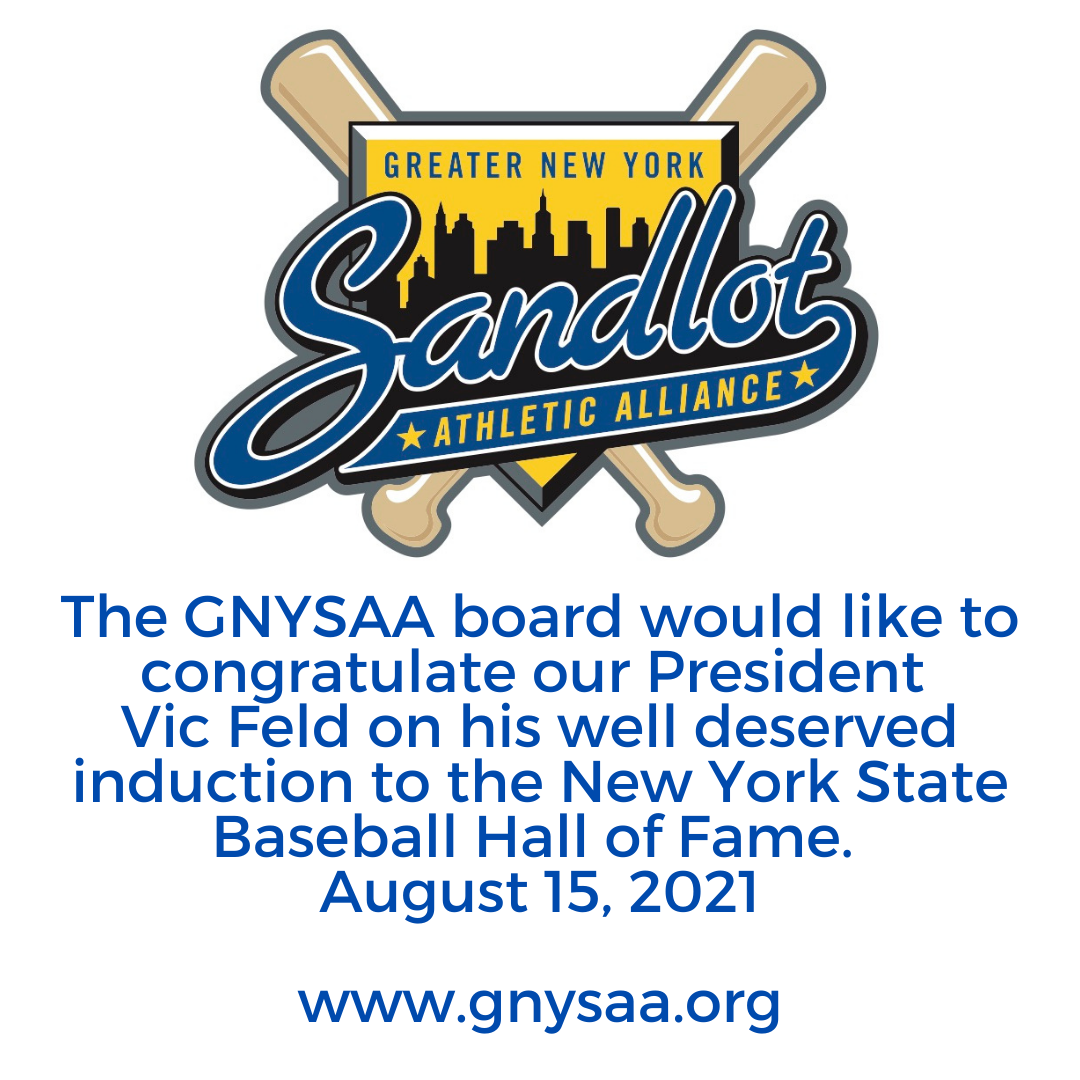 GNYSAA President Vic Feld inducted into New York State Baseball Hall of Fame

New York State Baseball Hall of Fame seeks to honor and recognize those who have distinguished themselves in the game of baseball. NYSBHOF honored the 2020 honorees on August 15 2021. The 2020 class included Tino Martinez, Lou Piniella, Goose Gossage,, Carl Erskine, Jerry Koosman, Gil Hodges, Mike Pagliarulo, John Morris, Kevin Kernan, Victor Feld, Jim Gates, Gene Michael, NYY Scout Cesar Presbott.
The Greater New York Sandlot Athletic Alliance is proud to announce the well deserved recognition of our President Victor Feld to the New York Baseball Hall of Fame. Victor and the other 2020 inductees were honored and recognized for their contribution to New York Baseball on August 15, 2021 at the Hilton Hotel Troy, N.Y..
Victor Feld is a lifelong Nassau County resident whose love of baseball began in his childhood. He has been involved in Sandlot baseball as a player, parent, coach, administrator, mentor and friend for 68 years. Since his retirement from his day job he has become even more committed to The Greater New York Sandlot Athletic Alliance (GNYSAA), where he has been a member for 40 years and whose motto for 80 years is to serve New York City Kids through baseball.
Vic started his adult baseball life as a parent and coach at Dwarf-Giraffe Athletic League (DG) in Whitestone Queens. He then went on to coach in the Long Island Connie Mack League and went to three regionals. There he also met Ray Church who was a mentor and friend and brought him into the GNYSAA family. His coaching career has been one that has taken him all over the country and where he has had success at many levels. He has been involved with Division 1 and Division 2 College Programs and has been both a High School and College Recruiter.
Since 2005, he has been President of the GNYSAA where he has worked diligently to grow the breadth and reputation of the organization. His work along with that of the GNYSAA Board (a board with 275 years of sandlot baseball experience) has grown the organization from a New York City Metropolitan Area program to one with a national reputation. The GNYSAA has built relationships with all professional, college, high school and sandlot levels which include Major League Baseball and USA Baseball. These relationships have helped the GNYSAA with its most important jobs of giving kids the opportunity to play, continuing their educations and getting opportunities to play and participate at the high school and college levels. Vic has affected the lives of thousands of players in a positive way and continues to do so today.
Vic and his wife Stephanie have three children, Anthony, Laurie and Charles and five loving grandchildren. The only thing that is more important to Vic than baseball is his family and he lives for both.
Our Mission Is to Serve New York City Youth Through Baseball